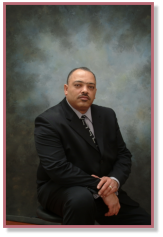 Michel S.E. Caldwell
Reverend Caldwell was born March 27, 1961, in Orleans, France to the late Jack H. Caldwell and Shirley B. Caldwell, presently residing in Spartanburg, South Carolina.
Reverend Caldwell attended Lathrop High School in Fairbanks, Alaska and graduated from the University of Alaska, Anchorage with a Bachelor of Arts degree in Political Science in 1987.  He received a Master of Divinity Degree graduating with honors from the Morehouse School of Religion in Atlanta, Georgia.  He has taken courses in pursuit of his Doctor of Divinity degree from the United Theological Seminary in Dayton, Ohio.  Reverend Caldwell received an honorary Doctor of Divinity degree during the commencement service of New Freedom Bible College in Bellevue, Illinois in 2004.
Reverend Caldwell preached his first trial sermon at age 17 in Fairbanks, Alaska at the Corinthian Baptist Church.  Licensed by Rev. W. McGraw at Greater Olivet Baptist Church, Los Angeles, California in 1980, he was ordained in 1987 at Shiloh Missionary Baptist Church, Anchorage, Alaska by Dr. Alonzo B. Patterson,  Jr.  In 1989 he became the pastor of the Mt. Zion Missionary Baptist Church, Cartersville, Georgia.  He was the former pastor of Holy Trinity Baptist Church, Delta Junction, Alaska; Young Life Staff Director, Administrative Assistant and Youth Pastor of Shiloh Missionary Baptist Church; Class Coordinator of Billy Graham Crusade; Board of Directors of the Georgia Department of Human Resources, and Tallatoona Inc., and a member of Georgia General Missionary Baptist Convention.
Reverend Caldwell has served as Adjunct Professor of Religion at Tusculom College—Graduate Studies and Director of Campus Ministries and Adjunct Professor of New and Old Testament Studies at Knoxville College.
He is the former President of the Knoxville Interdenominational Ministerial Alliance 2003-2005; member of CAC Community Leadership Class of 2005-2006 and vice president of the Knoxville District Congress of Christian Education.
Reverend Caldwell was called to Rogers Memorial Baptist Church on August 15, 1994.  Reverend Caldwell is responsible for leading weekly worship services, developing and implementing a church wide pastoral care ministry, administration of the entire church's program and ministries.  Rev. Caldwell is also responsible for recruiting, equipping, and empowering laity for the service of the ministry in the body of Christ.
Reverend Caldwell is married to the former Natasha Isom and they are the parents of three children, Brandon, Eboni and Michael.